Remembering Darlene and Wilson Falor Flagg
In 2014 I was fortunate to have the opportunity to visit the National 9/11 Memorial in New York city. The memorial is in a much larger than I expected and the pools that are formed from the footprints of each tower are hard to fathom until you are confronted by their sheer scale. It was a very humbling experience but certainly one that I think everyone should undertake if in New York city.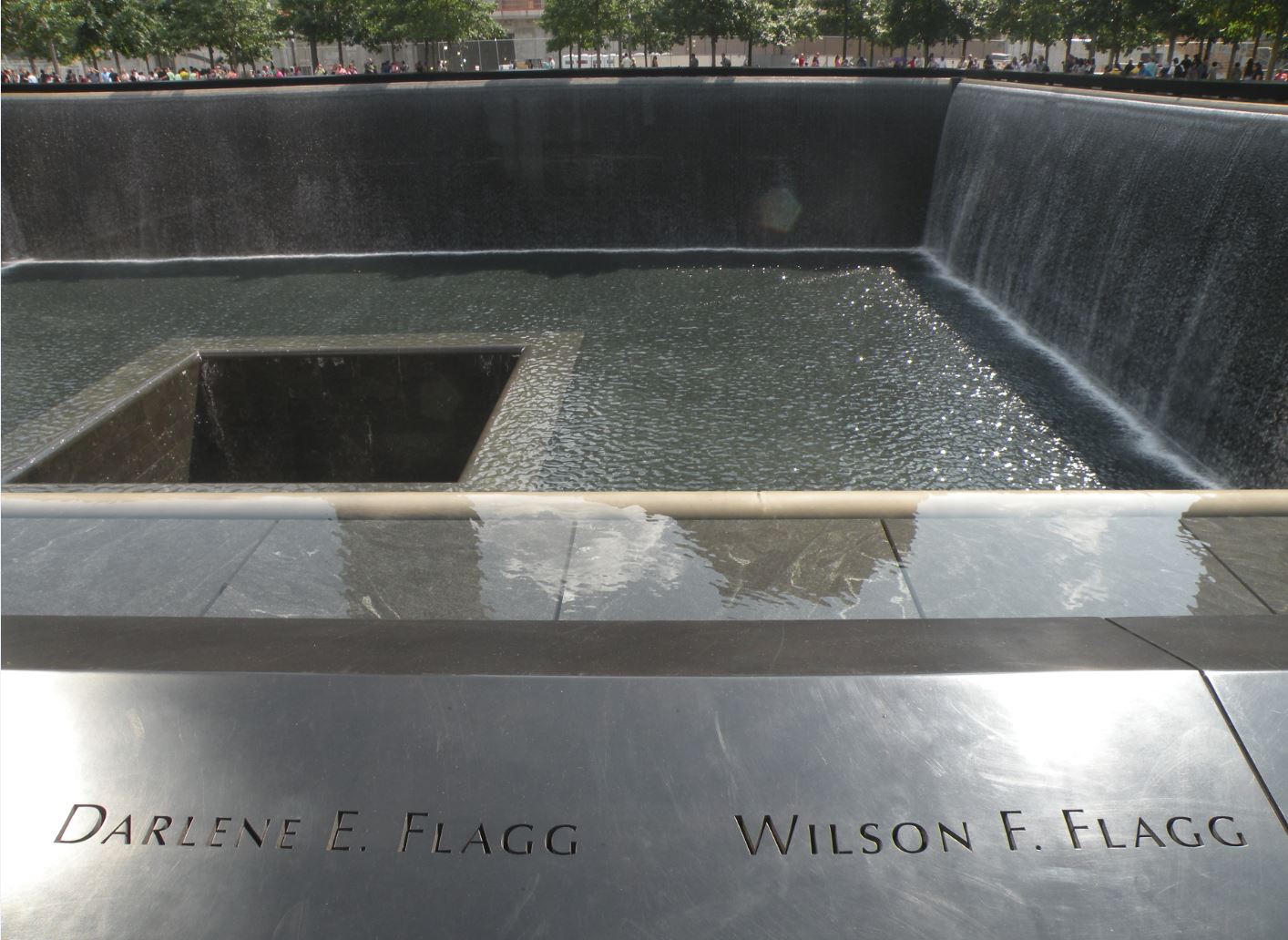 ---
FEHLER...
FEHLER... A very simple 6-letter surname. Yet, with a flick of a pen, the educated few in this nations early years, have forever alienated families. They have separated brother from brother and children from parents because "they" knew how it should be spelled. Read the rest of Harry Balls article Here
---
Facebook
I have recently started a Falor Genealogy page on FaceBook. There is not much to see yet, but I hope to us the page to communicate with researchers like you about updates I have made, specific individuals or photographs from past. Follow us and help solve some of the mysteries!
---
Alert:
Around January 23rd, 2009, someone emailed the webmaster with some family tree information. Unfortunately there was a technical glitch and the email was deleted before I had a chance to update the database. I believe the sender had a last name other then Falor, and pointed out that there was an error regarding an individual's name. If you sent this email to me, please resend it!
Thanks, Kenneth Falor
---
C. G. Falor Dry Goods and Grocery Store
I found this picture while crawling around on the internet on September the 4th 2007. It is a photo postcard showing the C. G. Falor Dry Goods and Grocery Store, Meat Market and the W. B. Fox Store on Saginaw Street, Breckenridge in Gratiot County, Michigan. It was taken sometime between 1904-18. I am pretty sure that I do not have this Falor is in my database yet, if you have information on who he is please contact the Webmaster. Added 9/21/2007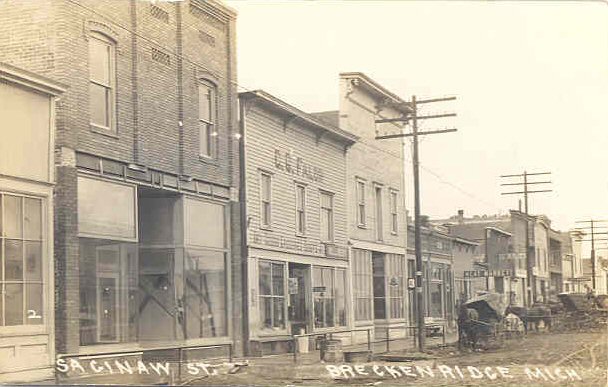 ---
Peter Falor's Aeroplane Cloth Raincoats
I recently purchased an interesting postcard advertising waterproof jackets made from "aeroplane cloth" by an as yet unrecorded Peter Falor of the Peter Falor Company in Kansas City MO. The card itself is unused and undated but is in beautiful condition considering its age. It is easily readable and still has vibrant red coloring on it. It is amazing what could be bought for less the $4.50 way back when! If you have any information about where this Falor fits in the tree or have any other interesting Falor related items like this postcard please contact Webmaster. Added 8/6/2006
Here is the front and back of the postcard: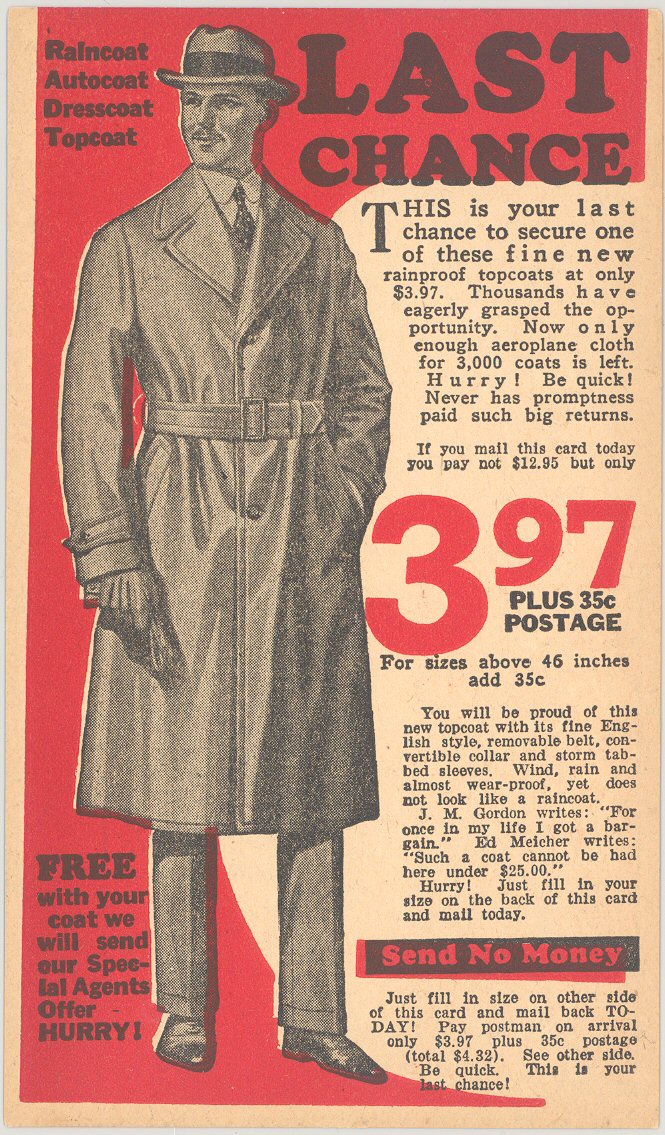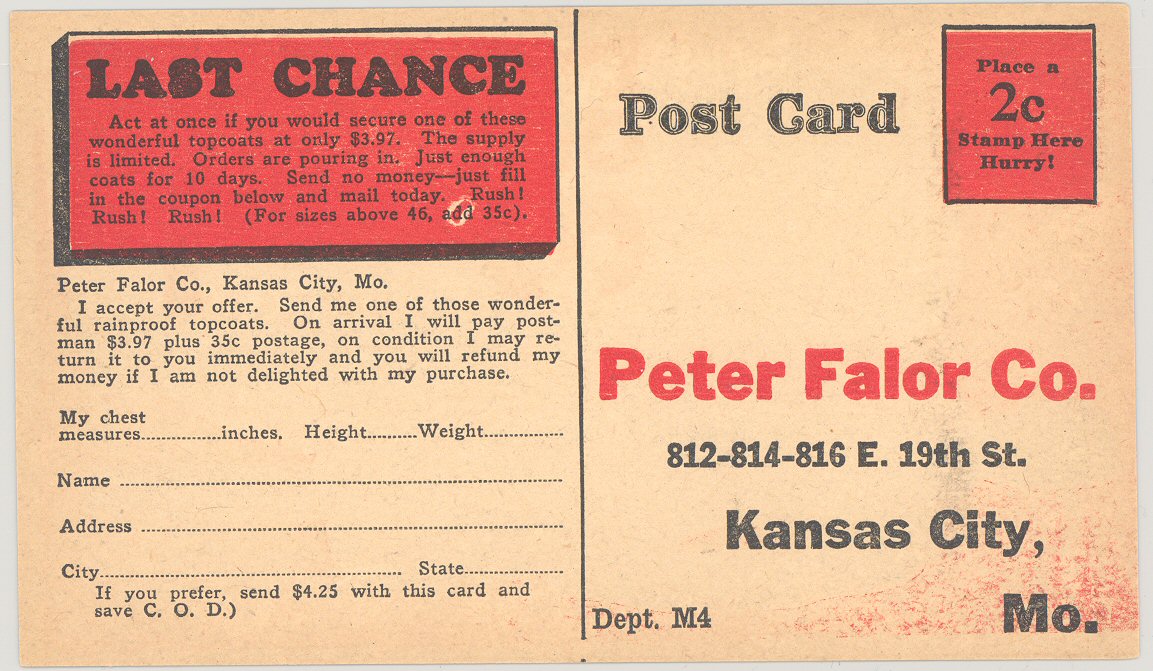 ---
Tracing Your Ancestors with the 1790-1810 US Census
Most genealogists working in the US have learned what a valuable tool the US Census is. But the ins and outs of each census record are intricate. It seems like each decade something changed about the information included or the way it was recorded. This perception is quite often the case. The history of the US Census Records is important to understand when using it as a resource to trace your ancestors. This article features census searching tips and covers the history of the US Census from 1790 to 1810. Part two in this series covers US Census history from 1820 to 1880, including 1850, a watershed year in census history. The third and last article covers the history of the census from 1890 to the present. Here are our Census Searching Tips.